TO MINIMISE THE SECONDARY ABUSE CHILDREN SUFFER WHEN THEY REPORT ABUSE AGAINST THEM. THIS ABUSE IS OFTEN WORSE THAN THE PRIMARY ABUSE, DUE TO A VERY UNSYMPATHETIC REPORTING SYSTEM.
"GETTING CONVERSATION GOING"
To prevent more child abuse from happening by securing more reporting.
To mobilise communities to start speaking about child abuse.
To educate communities on what child abuse is, signs and symptoms and how to report it.
To educate the public and children on reporting, highlight myths and facts of child abuse and to mobilise the community to start reporting.
CHILD FRIENDLY REPORTING FACILITIES
Creating child friendly reporting facilities at SAPS FCS units, sexual offences courts and hospitals. Currently more than 43 such rooms have been implemented in Gauteng, Western Cape, Eastern Cape, Limpopo, Northern Cape and Mpumalanga.

NR OF CHILDREN HELPED : 30 000+ pa
Supplying comfort packs for girls between 5 and 12 who has been abused and report sexual abuse crimes. These packs are handed over to the police.


NUMBER OF CHILDREN HELPED: 2 000+ pa
SPECIALIZED TRAINING COURSES
Hosting specialized training courses focusing on equipping officers of the law (detectives, forensic social workers and prosecutors) and service providers to understand the need of the victim and respond accordingly.

6 000+ STAFF TRAINED
TRAINING - MEDICAL PRACTITIONERS
The training of medical practitioners in a specialized course, Forensic Medical Examination and Expert Witnessing to promote a more effective role by medical practitioners in the holistic care of sexually abused children.


200+ DOCTORS TRAINED
Our "Don't bully" and "Share your Secret" progammes have been designed to educate children on child protection, reporting and empower them to report abuse against them. To date more than 50 000 children have attended our shows.


NUMBER OF CHILDREN REACHED: 7 000 pa
GETTING CONVERSATION GOING
Multi-project campaign to break the silence around child abuse in order to secure more reporting by children and communities
2TALK.CO.ZA website.
Development of a basic trauma guide to assist children who do not have access to trauma assistance.
NUMBER OF CHILDREN REACHED: 25 000 pa
Awarding officers of the law who has gone beyond the call of duty. Currently only hosted in Gauteng.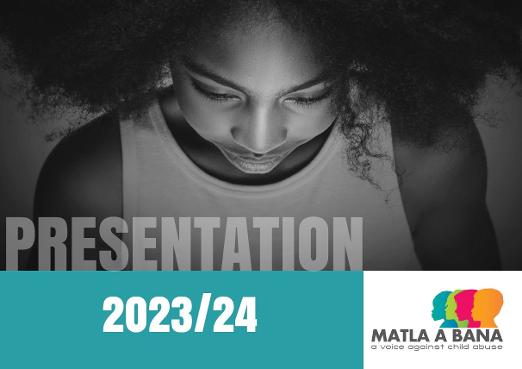 For more details on our projects, please download the Project Presentation for 2023/24
HELP US CREATE A WORLD WITHOUT CHILD ABUSE
As a registered NGO we can issue tax deduction certificates to companies and individuals. We can also issue BEE Certificates.